I invested 50 USD in Piggericks as a early bird. This is my story about my investment – and tips to you how to get most of it.
From free pig – to the money
Now when it is possible to cash out in two different ways (to hive or Eth) it is easy to calculate the "way to the money". What do you need to do to get money from this game – without invest something?
First of all – You need to pay 30 USD in the game to be able to withdraw. Remember this when you read this guide. But – you don't need to pay that until you are sure you want to withdraw. So just play and see if you can reach the limit when you get more money in your pocket.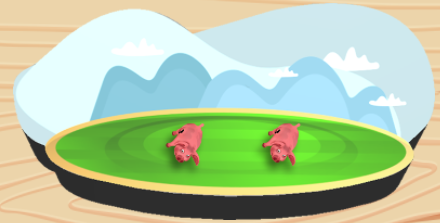 Here we go.
Get your free pig
Of course you can buy pigs in game and choose level to start at. DON´T DO THAT.
Why?
Go to Discord (or tell me) and you can buy pigs for 40- 60 % of the price in the shop. But in this guide I will show how to play and earn – FOR FREE.
#### GET FREE PIGS
• Have an active Hive-account
Just go to Piggericks and sign up. Use my name (minimining) as refereal. Then contact the team in discord. You will get a level 1 or level 3 welcome package from them depend of how big hive-account you have.
• Use me as refereal
When you use me as refereal – make a printscreen and tell in comment. I send you 2 level 1 piggy.
• Use Grow My Base
In Growmybase you can make some minitasks and get points. It is all about be involved in blockchaingames. Follow them at Twitter, Join Discord, Open free account and so on. Get 10-100 points for every task. Then when you have 10 000 points you can use them to buy a Level 3 family – worth 25 USD.
• Follow me
Every post about piggericks I will give out at least one level 1 pig.
• Follow Piggericks Blog
They have A LOT contest where you can win piggies up to level 6. (Worth 30 USD).

PLAY
The rules are simple – But please read about the tactic so you understand – or ask me. I will not pay attention to the tactic in this post.
To Level Up One level– You need to win 8 battles. Every battle gives you XP if you win – but you loose XP if you loose. But you win more then you loose. So if you play 50/50 in long term your XP will grow.
Start at Level 3
You need to win 8 battles (+ every you loose) to level up to level 4
Start at Level 1
You need 25 win to get to level 4 (+ one win for every loose)
Value at level 4
A pig at level 4 is worth about 6 HBD if you kill it and get HBD for it. So if you reach this level you can choose:
• Sell it and get 6 HBD
• Try to get higher level or higher XP to get more from it
The risk…
Remember you have always a risk when you play.
If you loose a game:
• 25-35 % risk to loose your pig to your opponent
• 3-7 % risk that you pig will die and get out of game
BUT remember that when you win a game you have 25-35 % chance to win your opponent pig/s.
With that risks – is it possible to take a pig from level 1 to level 4? Without loosing it? I am not sure. I think that the odds is against you with that killing % and that you have to win 25 matches + those you loose.BUT…if you start at level 3…
If you get a starterpack at level 3 it is more likely that you can do it. You only need 8 matches of winning.
But still – If you start at level one you have nothing to loose to try. I use my level 1 pigs in contest like "play as much as you can". Last weekend I won 10 Hive that way.

BUT…the 30 USD fee
Yes. If you reach level 4 you have a pig worth 6 HBD. If you have 5 of them you have pigs for 30 USD.
Now you can pay 30 USD in the shop to open up the withdraw function. Buy this pigs in level 4 !!
Now you have pigs for 30 +30 USD in level 4. 60 USD in piggy and when you cash out them to HBD you get about 50 % so 30 USD. You have your money back! And from now on you can make a cash out (buy killing level 4 pigs or higher) and get HBD from it.
That's a long way with free pigs….Of course it is a long way if you start at FREE piggy. The same in all games. You need to be patient and play a lot if you want money from it. BUT there is some shortways….
• Join contest
Follow Piggericks blog at hive. That's the best way to get free piggys and get nice prices. It is similar to other games in cryptoworld – Follow discord and blog and join contest. For newbies it is absolely the best way to boost a account.
Money So Far
I invested 50 USD
In contest, by playing and trading – Now it is 320USD (sorry wrong numbers in the picture) cash out and still have pigges left to play with. But I was a early bird and also love to join contest.
DONT JOIN GAMES WITH MONEY YOU CAN NOT AFFORD TO LOOSE
And – join all contest. That is sometimes better money than playing the game. Similar in Splinterlands – I can get more money from blogging at the blogcontest then playing…

Do you want a Level 1 PIG? Just tell me that you want it – Two comments will get one each.