**It is a new game at Hive-Blockchain – The Piggericks is here and I will tell you WHY you should join and how to get a free account from me.
I know you want some pigs (and money)…**
# What is Piggericks?
Have you ever played the old childrengame when you should throw two small pigs and you get points depend how the fall. And you collect point to get up to special level.
I played it when I was a child and now the game is digital, it is at blockchain – it is at Hive-blockchain.
The rules is pretty similar but in this game you will have more tactic. You have 2 or more pigs to choose when it it is time for battle. They have different abilities and experience. And if you win – they will go up in level.
I will not tell so much about the rules. Just look at the youtubevideo or read theme here.
https://piggericks.com/how-to-play

## Why start playing a new game…
Splinterlands, Xode, Dcity…. Do we need more games? Of course because everyone will not love all kind of games. So – why I will put some money in this game and give it a try.
**1. Starters always get the best**
Did you joined Splinterland when the game was just launched? I bought my first card before that. In the beginning I did get a extremly good ROI. Every dailyquest give me a BoosterPack (worth 2usd) and when I joined Kickstarter I did get over 250 % ROI.
I am not telling you that EVERY game is good for the startplayers. But if you should join a game (or a project) in crypto – do it in the beginning. High risk – but if the manage you have a good money.
**2. Bounty for starters before 15 july**
If you buy pigs before 15 july you will be able to buy BONUS-packs.
![image.png](https://files.peakd.com/file/peakd-hive/minimining/Wt7GgXq9-image.png)
That is one more reason to be one of the first in to the game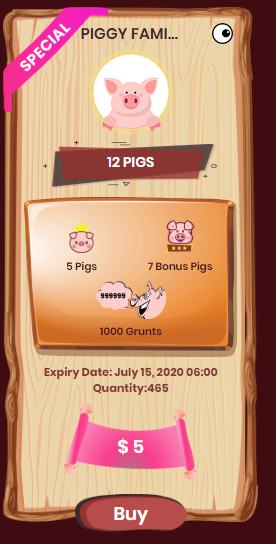 **3. Good guys behind the game**
Do you remember Steem-Bounty? One of the man behind Steem-Bounty is @knircky and he is one of the guys behind this game. I like when I know who is doing games or services. That makes a lot of trust. I am not telling that his guy will make success. But I understand that he has a good team and good ways to make this game more famous.
**4. They NEED more players**
It is always hard to get new players. When it is many players – they will tell others and so. But the first step is hard.
SO – they have to pay some money for commercial. I am follow the blog and was in a contest – I won 60 Hive today. It is REALLY GOOD that they have contest with 1000 HIVE !!!! in this beginning. I think everyone won some money because there is still pretty few players.
They will have to make some contest and bonus for thoose who play – just to make more players. Just like Splinterlands.
![image.png](https://files.peakd.com/file/peakd-hive/minimining/9fYhtGle-image.png)
# 5. You can join FOR FREE
What is the best way to say "Thank you" to Piggericks for the contest where I won 60 HIVE? I think it is to give people free pigs!
**Just make a comment and you will have the chance to win this**
TO MY SWEDISH READERS – YOU HAVE TO COMMENT BELOW OR SEND ME A PM PLEASE


Stay Tuned – I will try to blog about this Pigs at least once a week. Lets see if this pigs will give some money back…
Next post will be "How to get most money from Piggericks"
READ MORE FROM THE TEAM @piggericks
Twitter | Telegram| Discord| website|